Pestcatcher Wasp Control Swindon Expert Wasp Removal
If you have a wasps nest in Swindon give us a BUZZ today we would love to help you!
Our Prices for wasp control Swindon are £50.00 for the first nest then £15.00 per additional wasps nest in 2018
We are specialists in the treatment and removal of wasps and hornets in the Wiltshire area. All of our technicians are fully qualified to carry out wasp control to the highest of standards.
We are specialists in the treatment and wasp removal and hornet removal in the Swindon and Wiltshire area. All of our technicians are fully qualified to carry out wasp control to the highest of standards.
Please be aware the Asian Hornet has been sighted in the Lancashire area, the Asian hornet is an invasive species please contact us if you suspect you have a Asian hornet nest. Or contact the national bee unit.
Pestcatcher Pest Control are fully insured and offer a full eradication guarantee with every wasps nest treated. We treat all nests with professional insecticide powder and use long poles to access the most difficult of nests.
Call us on 01793 630768 today to arrange a visit.
Need a speedy wasp treatment urgently? give us a BUZZ today.
Lifecycle of a wasp
Queen wasps emerge from their nests in the autumn, mate with male wasps, then find a suitable site for hibernation underground or inside trees or buildings. Late in the following spring, they end their hibernation and search for somewhere to make their nest.
Nest sites are usually in the ground or in roof cavities, making them a common pest in lofts or sheds. Their nests are built from wood pulp which is moulded into a smooth outer shell which contains many internal chambers constructed in a characteristic honeycomb pattern.
Eggs are laid in each of these chambers which hatch into larvae, fed by the queen on a diet of dead insects. Once these larvae are fully grown, they pupate and transform into sterile workers which spend their lives rearing new larvae and the next generation of queens.
Towards the end of summer, male wasps start being born in the nests, whose sole purpose is to breed with the queen. When the weather turns colder, all wasps die except the queens, which fly away from the nests (which are abandoned, and never used again) to find sites for hibernation, starting the cycle again.
We carry out Wasp Control for both commercial premises and domestic homes
We have been providing wasp control in Swindon for 10 years, in that time we have helped all types of businesses and domestic clients get rid of there pest problems. No matter if you are a home owner with a wasp problems or a business with a rat issue we can help remove these pesky pests from your premises. 
Wasp control Swindon general Information about Wasps and Hornets
Wasps build nests which are paper like in appearance.
They often build nests in lofts and anywhere nice and dry such as flat roofs. They will also build nests in bushes and trees pretty much almost anywhere.
We are often asked is there anything that can be done to prevent wasps nesting in a house roof and the answer is unfortunately not as the queen will access the area through the tinniest of holes.
The nest starts life as a very small ball but rapidly increases in size as the summer progresses.
You can normally see nests attached to joists and beams within lofts.
Wasps feed on many food stuffs including proteins and sugar based foods they are very attracted to Sweet food, alcohol, sugary drinks, and sweets.
The good news is nests will die off in the winter but they can get to a very big size and an average nest will product up to 20 queen wasps which will setup new nest the next year. This is why it is a good idea to kill off the nest rather than leaving it.
If you suspect you have a wasps nest but are unsure look for activity such as wasps going in and out from a certain area of hole.
Bees tend to hover around the outside of the hole and wasps go in and out very quickly.
If you see this activity then give us a call and we can certainly assist.
Wasp Control Swindon And Wasp Removal Prices 
Pricing Information From Pestcatcher
The Prices for Wasp Control are fixed other services such as relocation of bumble bees or honey bees may occur further charges please call us for further information on this. 
Price for Single Wasps Nest Removal
Charge per additional nest 
Swindon Wasp Control Experts-Call 01793 630768
We are able to provide business clients with expert tailor made solutions to pest control issues. We can provide regular pest control visits to ensure you are pest free and that you comply with the latest regulations. We now offer digital reporting where all information is stored securely online and our prices are competitive. 
Recent News From Pestcatcher Pest Control Swindon Visit Our Blog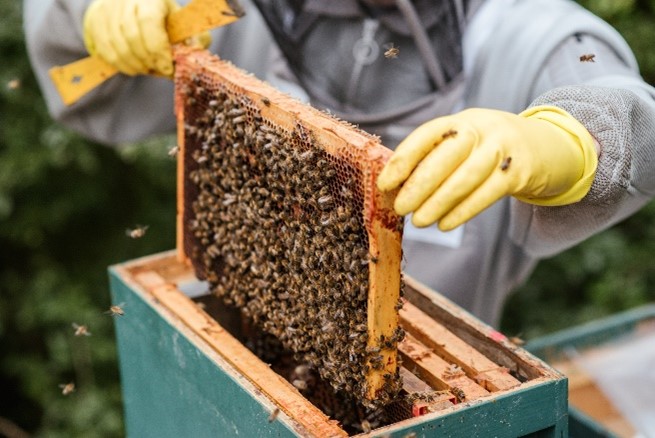 Six things all beekeepers need to know about medicines Helen Swift, Veterinary Assessor, talks about 6 things all beekeepers need to know about medicines. Link To Original Content https://vmd.blog.gov.uk/2022/02/10/how-well-do-you-treat-your-bees/ Effectively managing...
Pestcatcher Your Local Pest Controller